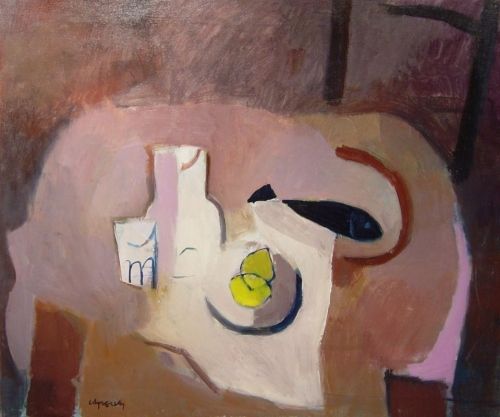 Joan CAPELLA
...
(1927, Montcada and Reixac -31 October 2005)
In 1945, in full youth, he was a founding member of Tertulia, a group that, until its dissolution in 1957, dynamized the cultural life of Moncada and Reixach and its surroundings.
He won the first prize of his career in 1953, in Barcelona, ​​when he won the Santa Dorotea Prize for landscape painting, which opened the doors of prestigious Catalan institutions such as the Royal Artistic Circle or the Ateneo Barcelonés.
Thus began a large series of exhibitions, both individual and collective, especially in the Catalan area, but also Spanish and international, with participation in the Salones de Mayo and collaborations with the Sala Dalmau in Barcelona. In 2002, after honoring him on his 75th anniversary, an art fund was created with part of the artist's work and at the beginning of 2008 the Joan Capella Foundation began its journey, up to the present day.
From the beginning his artistic career reveals different influences: Cézanne, Rouault, Picasso, Benjamín Palencia, Francisco Bores, Ortega Muñoz, Zabaleta; all are visibly reflected in his painting without ever submitting it. From these teachers, Joan Capella got a style of her own, a way of doing disguised as apparent simplicity. In his works, the precise treatment of color and the balanced composition of forms transform a reality that, through his serene gaze, becomes silent harmony.